Gentle Hatha Yoga in English , slow down and relax!
A class for beginners to help release tensions from the body and the mind. Gentle body movements, guided breathing and meditation will help you connect with your energy, improve your physical and mental wellbeing and live with greater joy and peace of mind. The method practiced is the "Yoga Ratna" method of Gabriella Cella, one of Italy's most prominent yoga teachers. Her yoga method is rooted in the traditional Hatha yoga teachings of India which she enriched  by placing special attention to the symbol of the "asana"  or yoga position, which  transforms us from within on a very deep level. We learn to slowly listen to our inner voice by entering a space of silence guided by slow gentle movements. A yoga method which also pays particular attention to "awakening" the feminine energy which dwells in all of us, male or female, and which has the power to create and transform and thus help us become more balanced joyful individuals.
Fridays 3 pm
---
Stress release and meditation in English, slow down, breath, and connect!
A class which will give us tools to help release tensions from the body and the mind and live life's stressful moments with greater ease. We will learn to balance our emotions , improve our concentration and live with greater peace of mind even amidst the turmoil of life.  Through gentle body movements guided by the breath we will learn connect to  the sensations in our body and release any tensions which we may be unconsciously withholding and which are often at the root of disease or chronic physical conditions. We will learn breathing techniques "pranayama" and meditation which will help us expand our energy and calm the endless chatter of our minds. By incorporating the practices in our everyday lives we will not only improve our capacity to deal with stress and sleep better but we will live more joyfully and in harmony with others.
Fridays lunchtime
---
Senior Yoga in English & Italiano – Senior chair yoga: slow down, breathe, relax.
Gentle Chair yoga is a practice which allows everybody regardless of their mobility to learn tools to help release tensions from the body and the mind. During the lessons, sitting comfortably on a chair, we combine gentle body movements to the breath to slowly activate our energy and regain the mobility of our joints while relaxing our minds helping us become more balanced both physically and mentally.  We also learn how to meditate and calm our minds which will help us sleep better and live with less anxiety when faced with life's unexpected and difficult situations. This course is ideal for those who seek a more gentle approach to yoga.
Fridays 16:30 pm
Inizia un nuovo corso di yoga sulla sedia per la terza età allo Spazio Arti Naturali–San in Centro. Lo yoga sulla sedia è uno strumento prezioso perché da la possibilità a tutti di poter imparare tecniche per rilassare le tensioni del corpo e della mente anche in presenza di mobilità ridotta. Piccoli movimenti  sulla sedia vengono abbinati al respiro per migliorare la mobilità delle articolazioni e per riacquistare un equilibrio fisico e mentale. Ritrovare uno stato naturale di calma grazie alla meditazione aiuta a dormire meglio e ad affrontare le difficoltà della vita in modo più sereno.
---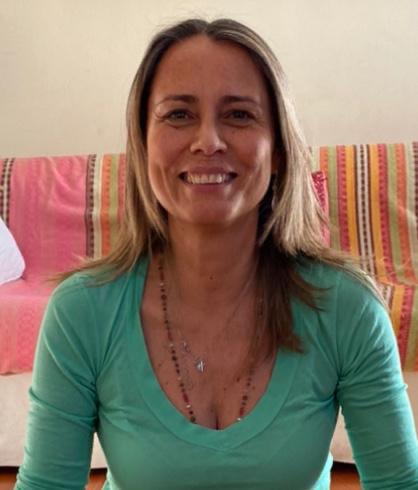 Pamela Elwes
Our teacher Pamela is a native English speaker who studied directly with Gabriella Cella (Yoga Ratna)and obtained her 600 hr. yoga teacher certification. She has extensive experience teaching both adults, children and people with special needs. She has had extensive experience  and has brought her teachings to the corporate world helping many managers deal with stress, become better leaders and create healthier happier working environments. She has also traveled and studied in Rishikesh India and has received direct trainings from the Himalayan yoga tradition of Swami Rama of the Himalayas.
Pamela Elwes : pamsoulyoga@yahoo.com +39 3389175447 @pamsoulyoga